Stor Henrik, one of the founders of Störåsen
By Per Johannes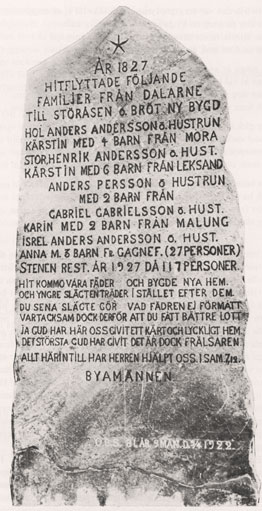 Following the land distribution reforms of the 1820's there were, in several places in Dalecarlia county, peasants who thought they were being treated unfairly at the allocation of new, integrated parcels of land. Surely, many peasants considered the allotments they had before to be "better" than the ones they got. With some of these peasants, the feeling of having been subject to an "unjustice" very likely found expression in a desire to find better land elsewhere. We can safely assume that this kind of discontentment, apart from bad harvests and years of famine, compelled a number of Dalecarlian peasant to migrate to Jämtland county, where they thought they could find new lands with favourable conditions for resettlement.
Between the years 1818 and 1841, a Mr Michael von Törne was the county governor of Jämtland. He felt an urgent need to stimulate a positive population development in his county. Especially during the war of 1809-1814, camp diseases had wiped out almost half of the men called up for military service, whereby sparsely populated districts became even sparser. Moreover, throughout this vast county there were considerable areas of woodland that were considered suitable to put under the plough. Mr von Törne knew about the discontentment that the land distribution reform had caused in Dalecarlia, and he knew that the arable land in that county was much more exploited than in his own county. By way of vigorous appeals and offers, he sought to encourage Dalecarlians to sell their homesteads and move north and become settlers in Jämtland!
He promulgated that those who broke a certain acreage of new soil in his county, where cultivation was considered favourable, would recieve 8 barrels of grain and 88 'riksdaler' and 16 'skilling banco', in addition to 30 years of tax exemption, as a grant and a starting-subsidy from the government. The offer enticed a number of agriculturul families from various places in Dalecarlia to sell their lands at home and move north.
A group of peasant from Sollerön made common cause and settled in the parish of Lit north of Östersund. Their fortunes are told in the Sollerö folklore society yearbook Sool-Öen 1974. Therefore, nothing will be said here about this group of migrants. Another group that went north the same year, 1827, to colonize a "wilderness", a woodland area called Störåsen in Hammerdal parish (now part of Krokom Municipality), also deserves to have their settlement exploit put on paper. In this group there is one man who, by his daring intrepidity, strength and toughness, has become almost legendary. Even after one-and-a-half decades (Editor's note: This was written in 1975) the memory of this man named Stor Henrik lives on, not only among the hundreds of descendants even down to the sixth generation who consider him to be their ancestor, but throughtout the region of Jämtland where he found his new home.
In the Leksand Parish Register, he is found under the designation "the farmhand Bengts Henrik Andersson" until he took over a part of his ancestral farm in the hamlet of Böle. His parents were Kus Anders Olsson, born in Sätra 1743, married to Stor Karin Hindriksdotter in Böle, born 1751. When his father by marriage settled down in Böle, he took over his wife's farm name Stor (Great), according to local custom. Thus, the man who would become Stor Henrik in Jämtland was entitled to this name by inheritance. But he would later also deserve this epithet because of his remarkable achievements. Apart from the hamlet names of Sätra and Böle, also Halvarsbo, Almberg, Rönnås and Hagen are mentioned in the genealogical table of this family.
In those days, the infant mortality rate was terrifyingly high. Kus Anders Olsson and his wife Stor Karin had nine children by their marriage, of whom only four reached mature years. The following piece of information is telling:
Son Anders (1), born 1772, died in infancy,
son Olof (1), born 1776, died in infancy,
daughter Brita, born 1778,
son Olof (2), born 1782, peasant in Böle,
daughter Kerstin, born 1785, died in infancy,
daughter Anna, born 1788,
son Anders (2), born 1790, died in infancy,
son Henrik (1), born 1792, died in infancy,
son Henrik (2), born 1794, the one who would become Stor Henrik!
What reflections does this information evoke in a modern reader? Does it occur to anyone that the parents came from feeble, not very viable generations? The fact that at least the last-born would become legendary because of his physical strength, his stamina, his indomitable will and his never-ending diligence shows that this was not the case! Poor housing, insufficient and unbalanced diet, neglected hygiene and all but non-existent access to medical care—therein lies the explanation to the gruesomely ravaging infant mortality. Notice, in the crowd of children above, how younger siblings "took over" names of deceased siblings in no less than three cases! The Parish Registers provide many examples of this phenomenon right up to the end of the 19th century.
In 1814, Stor Henrik Andersson married Skinnar Kerstin Persdotter from Almberg, a hamlet adjacent to Böle. She was born in 1793 and now came to settle down with her husband in Böle. At that time, Stor Henrik was working as a farmhand at the still undivided family home, together with his only surviving brother Olof, who was 12 years older. His wife also brought some of the Skinnar farm's properties into the marriage, but since this marriage also gave birth to a lot of children, the future prospects of food supply appeared to be a problem for Stor Henrik's family. However, despite the fact that the settings and the diet were still primitive and not very suitable for children, this young husband and wife got to keep their children. But the small cottage became increasingly cramped, and food supply problems became increasingly difficult. Moreover, at the land distribution Stor Henrik was assigned land of which some parts lay in the shade of the hill Galtskallen for serveral hours a day. This meant that the grain many times had difficulties growing ripe on these allotments, and this in its turn meant increased concerns about feeding their growing, hungry children. The call from Jämtland reverbated stronger and stronger in Stor Henrik's mind. Would a migration to the praised lands in the north possibly give them a steadier livelihood? These thoughts soon ripened from dreams to hopes, to a decision!
However, this was not solely a decision made out of desperation. He knew that the same hopes had been raised also in other places in Dalecarlia. The rumour was afloat, and people had been discussing obstacles and opportunities. Parishioners who had gone on their seasonal labour wanderings to northern Sweden, and joined in the building of bridges and churches etc, had obtained certain information. Among modern descendants of these migrants, traditions are still alive how Dalecarlians, from their visits in northern Sweden, brought specimens of soil from lands which lied up there wating for cultivators! The authorities in Östersund had been contacted, and tangible specifications about land assignment, terms and benefits had been procured, discussed and lend support to their dreams of a steadier livelihood up north.
When Stor Henrik and Skinnar Kerstin gave birth to their 6th child, the girl Brita, the thoughts of a migration to Jämtland had come to a head to a final decision with the young couple. In the following year, all the necessary measures were taken for accomplishing such a serious undertaking. The wave of emigration to the United States had not yet begun sweeping throughout the rural parts of Sweden, but even a migration within the country meant many a hard nut to crack. It was certaily not just a matter of "getting a ticket" och going away at that time!
When one tries to twine the threads of truth into the story fabric, out of scantily worded documents that sometimes have been badly knocked about, you cannot always avoid the fact that tales and myths also slips in a piece of colored yarn through the heddle sometimes. When it comes to the course of the long journey itself, fantasy sometimes have to fill in some blanks where the documents are silent. We got exact information, however, about the preparations for and the point of departure.
Before any certificate of change of abode could be issued, the husband and wife had to be examined on their knowledge of Christianity. They were summoned twice to appear before the vicar to give evidence that they knew the essentials of the grooming of the soul, first time in February 1826, and second time in March 1827. On that latter occasion, the three oldest children, 13, 12 and 9 years old, were also examined by the vicar. On Christmas Day 1826, they received the Holy Communion for the last time in their native Parish Church.
In the meanwhile they had sold all their land along with buildings and everything else that could be dispensed with. Food, clothing, household utensils and other necessities were stowed as best possible onto a single cart with "disc wheels", that is wooden wheels without spokes. The whole carriage-load were to be pulled the long distance by the farm's only horse! As far as is known, no cow was included in the move. The necessary supply of milk was vouched for by goats. What other livestock they brought with them we don't know, but salted and dried meat were most certainly part of the outfit. During the journey they could probably also buy something to eat in inhabited regions. Nine people needed food during the long journey, and during the first few weeks after their arrival they also had to eat from the packed food they brought with them. It's not easy to comprehend how they managed to carry everything on a single rickety cart!
The nine persons were, accordingly, the family father himself, Stor Henrik, and family mother Kerstin, along with their six children: Anders, thirteen years old, Per, twelve years old, Karin, nine years old, Margareta (in Jämtland called Marget), who was seven on the very day they left (!), Henrik, six years old, and Brita, two years old. The children's maternal grandfather, the former soldier and village shoolmaster Per Igel, also came along to become a schoolteacher for both his daughter's and other settlers's children on his arrival. When they left he was sixty-five years old and successfully attended to his teaching post in the settlement for many years. The children's paternal grandfather, Kus Anders Olsson, was now eighty-four years old and a widower for many years. If there were any plans to bring him along on such a strenuous journey is not known. The idea was probably that he should remain with the other son, Olof, who now owned the freehold farm in Böle. But the One who guides people's fate arranges things according to his plan. On the 1st of February 1827, the same year the departure were to take place, old Grandpa was called hence. He was spared the sight of his youngest son setting out with his large family towards an unknown destiny.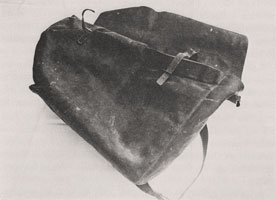 The departure took place on the 20th of April 1827. What the loaded cart looked like that now rolled out of Böle hamlet, only a lively imagination could give any idea of. As far as is known, the only item that still remains in the material world is an old, home-made leather bag (see picture) that can now be seen in the rural community centre in Föllinge, donated by Karl Anders Andersson in Störåsen. Supposedly, this bag contained all the important documents that the family needed for their settlement in Jämtland: certificate of change of address, licence for land disposal and other documents from the public authorities in the new county. After long preparations of decisive importance, a bold decision had now come to a head.
There are no documents that can give us any reliable information about how the departure was effected or what route they followed. However, in all probability one can assume that the best way to travel was along the major road through the coastal towns up to Sundsvall. From there they had to follow the right bank of the river Ljusnan upstream to the interior of Jämtland, where the culture lands of their dreams awaited. After passing the town of Östersund, tradition points out Högbrofors as the place where they finally turned towards their destination, since this was the only bridge crossing over the river Hårkan at this time.
Did Stor Henrik travel alone with his big family and his huge carriage-load? This is not clearly affirmed, either, but since several families from other Dalecarlia parishes shared the same destination, it seems natural to think that at least a few migrating families were in the same company. Their destination was an extended woodland between Hammerdal and Föllinge. To these "wilds" came now, with the exception of Stor Henrik's family, Hol Anders Andersson from Mora with his wife Kärstin and four children, Gabriel Gabrielsson from Malung with his wife and two children, Israel Anders Andersson from Gagnef with his wife Anna and three children, along with a man named Anders Persson with his wife and two children from some place that neither documents or informants have been able to establish with any certainty. A memorial accounts for 27 settlers, but they should have been 28, since Stor Henrik's father-in-law, the schoolmaster, also came with them.
Whether any of these families went together on the way north cannot be confirmed, then, but it's possible that this may have happened. A number of occasions must have arisen when reasons for mutual relief actions came up. Of course, there were inns along the road, but these were probably too exclusive for these travellers. There were also other resting hostels here, there and everywhere, and such places should have been well known for seasonal labour wandering Dalecarlians.
The forest area of Störåsen between Hammerdal and Föllinge, that had been assigned for the five families mentioned here, was widely considered a useless wilderness, and it contained no taxed land. Around this forest extending for miles and miles are the lakes Sandvikssjön, Föllingesjön, Ockern, Ottsjön and Gåxsjön. At the shores of these lakes lay villages where the inhabitants firmly refused to let "outsiders" move in. After all, they had good arable land and precious fishing waters. Therefore, the authorities in Östersund assigned this upland forest region as a colonization area for the Dalecarlians.
Only in one place within this area a Jämtlander named Fastberg had erected a small log cabin. He had also broken an embryo of new soil. This man may have planned to settle down and establish a new settlement up there, but the authorities had denied him the legal ratification. He therefore sold his cabin and his little patch of tilled ground to the Gabrielsson's from Malung. Consequently, this small family with two children were the only ones of the newly arrived settlers that had roof over their heads on the first night. It probably didn't take them very long, though, to erect inhabitable cabins. These were made of lumber, and there were plenty of woods within reach! Stor Henrik's first building was probably a sort of rough kitchen without any windows, with a hole in the roof for smoke coming from the fireside in the centre of the room. The house was built with very thick logs. The physical strength of Stor Henrik is said to have been immense, which is often testified to in the legends about him.
After the farm animals also got some kind of refuge as a protection and fence around the pastures, it was urgent to prepare the soil and sow before the essence of spring left the ground. The five families claimed for themselves the land they intended to cultivate, and this passed without any conflicts since the vast expanses seemed endless and the soil were considered to be rather good. Most certainly they stuck together and helped each other whenever necessary. Different trades were also represented in the new settlement. All of the settlers were of course farmers. In addition, Gabriel Gabrielsson from Malung was a tanner, a "skinner", and knew how to make both fur coats and skin rugs. His son, Olof Gabrielsson, succeeded to his father's trade and became known as a skilful leather tailor. As a boy sometime in the beginning of the twentieth century, the now eighty-year-old Mr Konrad West of Störåsen (Editor's note: This was written in 1975) remembers that he watched Olof Gabrielsson making skin rugs! Hol Anders from Mora was a house-painter, and Israel Anders Andersson from Gagnef knew the art of winning iron from bog ore and also knew how to forge the iron into good tools. He was supposedly the first one in the neighborhood who was able to make durable cranks for pitsaws, and Mr Konrad West has got one of these in his possession. Stor Henrik acquired the skill to utilize gunpowder from the inhabitants of Ottsjön and consequently also became a capable stone worker. The modern inhabitants of Störåsen would very much like to commend their neighbors in Ottsjön, who were the first Jämtlanders in the neighborhood who appreciated their new neighbors and gave them valuable help.
The Crown's inspectors regularly came to certify that the prescribed acreage were annually cleared. Someone is even said to have put twice as much land under the plough as the colonization contract stipulated. Very soon a place with a shack to keep the livestock during summer grazing pasture was established 3 miles eastward (see picture), and soon enough new ground was broken into tilled land even there. In this place there is still a shack left which one of the young families in present-day Störåsen, Nils Hugo Henriksson, deriving his origin from Stor Henrik, have piously equipped as a summer cottage. The date 1836 is inscribed in one of its logs. If this is a reference to the construction year, the shack is consequently erected only nine years after the arrival of the settlers!
As previously suggested, there are no lakes and consequently no creeks within the area that these Dalecarlians transformed into a cultivated district. But the people in the villages around the lakes were no longer disobliging towards their new neighbors. The old inhabitants not only had access to lakes with favorable fishing-waters, but also to rushing creeks where mills grinded grain into flour. As their allotments started to yield harvests, the settlers of Störåsen could come to them with their grist. After some time they were also permitted to build a flour-mill of their own in Tvärvalan and a sawmill in Snårhöbäcken. And as the years went by, the esteem for the immigrated Dalecarlians grew into admiration among the original inhabitants. Up on Störåsen, where previously only the beasts of the forest had roamed from time immemorial, there was now a great, beautiful, and well-tended village.
As far as is known , Stor Henrik was never appointed by the others to become, in effect, a headman or an alderman of the new community. Still, that is what he became because of his personality, his initiatives, and not least because of his extraordinary physical strenght. Such persons are always surrounded by a rich variety of legends surviving through generations. Stor Henrik was no exception from this rule. Descendants of Stor Henrik and his wife Skinnar Kerstin from Almberg in Leksand parish are now spread around the world even down to the sixth and seventh generation. What the poet Erik Axel Karlfelt wrote in his poem Klagosång över en lantman (Lament of A Farmer) in the third stanza is also very true of this peasant:
Du sådde din säd, (You sowed your seeds,)
kraftig din livsbölja flöt, (strongly your life billow flew)
och stark som ett träd (and strong as a tree)
din stam sina telningar sköt. (your trunk put forth it's shoots.)
Av flickor och gossar (Of girls and boys)
en ätt i oändliga led (a family of endless generations)
skall odla de mossar, (shall cultive the bogs,)
där släktfadern gladdes och stred. (where their ancestor rejoiced and strived.)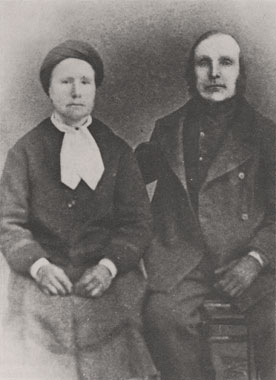 At the time of their arrival in Störåsen in May 1827, there were as previously mentioned six children in the family. In their new home district, between the years 1828 and 1842, they gave birth to another six children!! As early as in March 1828 Olle was born; in January 1830 Kerstin; in december 1832 Carl; in August 1836 Eric; in May 1839 Anna; and in August 1842 Elisabeth. In the light of the tragical infant mortality rate, as previously related, which had not least affected Stor Henrik's brothers and sisters, it's a marvellous fact that all the twelve children reached maturity, even though many of them must have experienced very trying hardships.
No matter how expansive grounds their father had achieved on his crown-homestead, clearly not all, not even many of the children could get their future livelihood from the land of their father. Of course, somebody could have started their own land reclamation, since there were still unbroken ground within the vast area. But most of them had to move to other parts of the County. The following account shows that they remained in Northern Jämtland, though, and were firmly rooted in their new home district.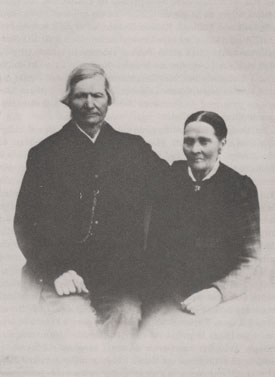 The eldest son Anders became a farmer in Nyby among the descendants of those who had come from Sollerön, Per moved to Klumpen in Gåxsjö, Karin was married to the farmer Mr Olof Persson in Gravbränna, Föllinge. Marget (see previous picture) remained in Störåsen through her marriage to local farmer Mr Pål Jönsson. Henrik (see adjoining picture) did not only inherit his father's name but also his share of his father's land and was married to Anna Andersdotter from Häggenås. These two became grandparents to the still alive Mrs Mia West in Störåsen. (Editor's note: She is now deceased.) Brita moved to Grenås, where she lived as a spinster and died sixty-six years old. Olof settled down as a farmer in Sandviken, Föllinge. Kerstin also remained single and lived in Ottsjön until 1880. Carl stayed like his brother Henrik in Störåsen, probably on a share of his father's crown-homestead and later married a local village girl, Kerstin Jönsson. Eric was married to Gunilla Frid in Kakuåsen och became a freeholder there, Anna married the farmer Hans Olsson in Grenås, and finally Elisabeth came to be, through her marriage with the farmer Jöns Olofsson in Kakuåsen, a village neighbor to her youngest brother.
One of the later descendants of Stor Henrik, the skilful genealogist Anton B. Hansson of Frösön, has made up an exemplary well-arranged, carefully printed genealogy on all of this remarkable family. "A very shady tree, extending its benignant branches…", to borrow a suggestive metaphor from Hymn 56 in the Swedish hymn-book. Among the many hundreds who regard Stor Henrik as their ancestor, there may be some who would like all of this huge document to be published here. This, however, would take up a lot of space, and also be less interesting to other readers who would surely be fascinated and impressed by the glimpses from the history of this legendary man, even if they don't belong to his family tree. (Editor's note: Today this genealogical table can be studied on this very website.)
The fact that the memory of Stor Henrik is still alive in his new home district, even one and a half century after the departure from Böle in Leksand, can be seen by a couple of extracts from published examples of his exploits. There are many versions afloat about his successful duel with a bear one time in the woods. The place where this feat took place is half a mile north of the previously mentioned summer cottage of Nils Hugo Henriksson. In the annual Jämten 1920, the signature "Anna i skogen" (Anna in the woods) has published a story in the Föllinge dialect about this episode, entitled Ei ta historiom 'n gommo (One of Grandma's Stories). I render the story here from the original, along with a Swedish translation by Berta Magnusson and Perry Ahlgren, Föllinge. (Editor's note: The English translation is based on this Standard Swedish translation.)
Ei ta historiom 'n gommo (Föllinge dialect)
By Anna in the woods
Ein ta förstom som sätt se ne her på Stauråsa va 'n dæḷakær som heite Stor-Hinrik. Dåmm kålle 'n så, för hæn va så okristele stærsk. Å de behövdes nog te væ kraftu å, nårr hæn håll på byggd för se. Du skull ha sitt vå tömmerståcka hæn hænske på egen hann! De va int rå te å lêi för ahllt då int. Je minns än att de va int meir än tri stååck ti fjösväddja för dörhöidn, tänk du, bærre tri! De va tömmer dåförtin. Bygg mæ töcke nu å!
Hæn haadd gåḷn senn der 'n Jonas Erssa å Sandströmmen bor nu, de va i ett då. Ja du kan förrestn si mærssa ett e igjænfyhllt e brönn på Sandströmshägn som 'n Stor-Hinrik ha greve. De va bra e brönn dæ, ett mæ bästom i bya, mæn osämja å avunnsjuka vålle atte de vårtte igjænfyhllt te sist.
Ein vinter ha nybyggaran ringe 'n bjänn. De va gott om töcker her på den tin må du tro! Ja så skull dom nå sta å ta'n då ja. Mæn 'n Stor-Hinrik skull int få væ betrodd te væ mæ å skjuut hæn int, uttan skuull bærre få bæra masäckjen deres. E stånn eett sæn de ænner ha före, släängt 'n Stor-Hinrik matkåntn på ryddjen, tog på se skjian å ga se iväg, smått hærm öve de hæn int skull få ta mæ se börssa 'n gång.
Der på 'n myr bräut 'n se 'n tong å grov 'n staur te skjistav u e stargåḷv, för de va som lite tryggar te ha nå ti hännrom ut på fall ... Rätt vå de va komme 'n in i 'n tjuck 'n skogback. – Herre jesses! 'N Hinrik tværstane å svååḷd bussn i häpenheitn. Straxt bakaför sprättbågubjårsken frammaför a stog 'n storfar sjæḷv å synnt ta all tännrom. Ja int ha ja ville vö ti kḷeom hæns Hinrik då int! Mæn lääng feck 'n int stå å stæra på bjänn int, för hæn råme te å resst se på bakfåttran å la raman på bjårska å va tänkt hååpp direkt på gåbben. Mæn 'n Hinrik va int sein hæn häll. Hæn lappe te bjänna emilla örom mä stava senn så hæn sätt se, å i räddagom tårve 'n te 'n gång te, å dæ tog recktut dæ –"å då doppa 'an nosa så væḷ ne i snön så", som 'n Stor-Hinrik sa. "'En en nå!" skreik 'n at skjyttom, som just komme tagan ett bjännfæḷom så de ose ett dåmm. Att dåmm vårtte branog lång i nåsun nårr dåmm feck si bjänn sjeḷ, uttan att dåmm ha fått låusa e enda skått på 'n, förstår du fäll.
Narr dåmm sææn ha fått bjänn på sḷææn å skull skjuss heim 'n, då må du tro 'n Hinrik va någa kærut å gråmm! Hæn sätt se överskravanes på bjänn å tralle å sång. Hæn hadd bra e sångröst 'n Hinrik. Så feck 'n opp brænnvinsfḷaska, som låg ti kånta. "Nu drick ja ur flaska å", sa 'n å drack u 'n uttan vidar e krus. De ænner feck bærre si på å ittnå få. Je såg bjänn dæn je å, narr dåmm komme heim mæ a. De läärdd væ stöstn å feitestn som dåmm ha sitt. Hæn va feit som 'n recktu 'n gris. Ja den dan feck 'n Stor-Hinrik sa hæn mintes e i all sin daga, både bjännkjött å fylla, å dæ hänne int all dagan dæ int, stugu full mæ ban ä smått om mæ ahllt som de va bå för hænom å de ænner nybyggarom her dåförtin. Hå hå ja ja.
(To be continued)
© Per Johannes. Föllinge Hembygdsförenings skriftserie, del V, 1976. Off-print of Stor Henrik och Mats Bjur: dalska odlingsbragder i Norrland. Leksand: Lundells Bok och Papper, 1976